Description
Get a beautiful smile with AP 24 Whitening Fluoride Toothpaste. Its gentle, vanilla mint formula lightens teeth, prevents cavities, fights plaque, and freshens breath for a long-lasting clean feeling. Say goodbye to stains from food, tobacco, or drinks, and hello to naturally colored teeth!

SIZE: 110 G
(Packing is in either English or Malay. While stock last)
Usage
Brush your teeth thoroughly at least twice a day, or, better yet, after each meal if you can spare the time, unless otherwise directed by a dentist or physician. For children under 6: use a pea-sized amount of toothpaste and supervise their brushing habits to limit swallowing.

Keep it out of the reach of children under 6 years old : in case of intake of fluoride from other sources consult a dentist or doctor. This product contains Sodium Monofluorophosphate.
Self-Collection : 

Self-collection is available in Singapore (SMRT Circle Line) to save shipping fee. Email us at thatnatureworld@gmail.com for self collection arrangement after payment is made. 

Payment & Security
Your payment information is processed securely. We do not store credit card details nor have access to your credit card information.
Product Details
AP 24 Whitening Fluoride Toothpaste lightens teeth without peroxide while preventing cavities and plaque formation. This gentle, vanilla mint formula freshens breath and provides a clean, just-brushed feeling that lasts all day.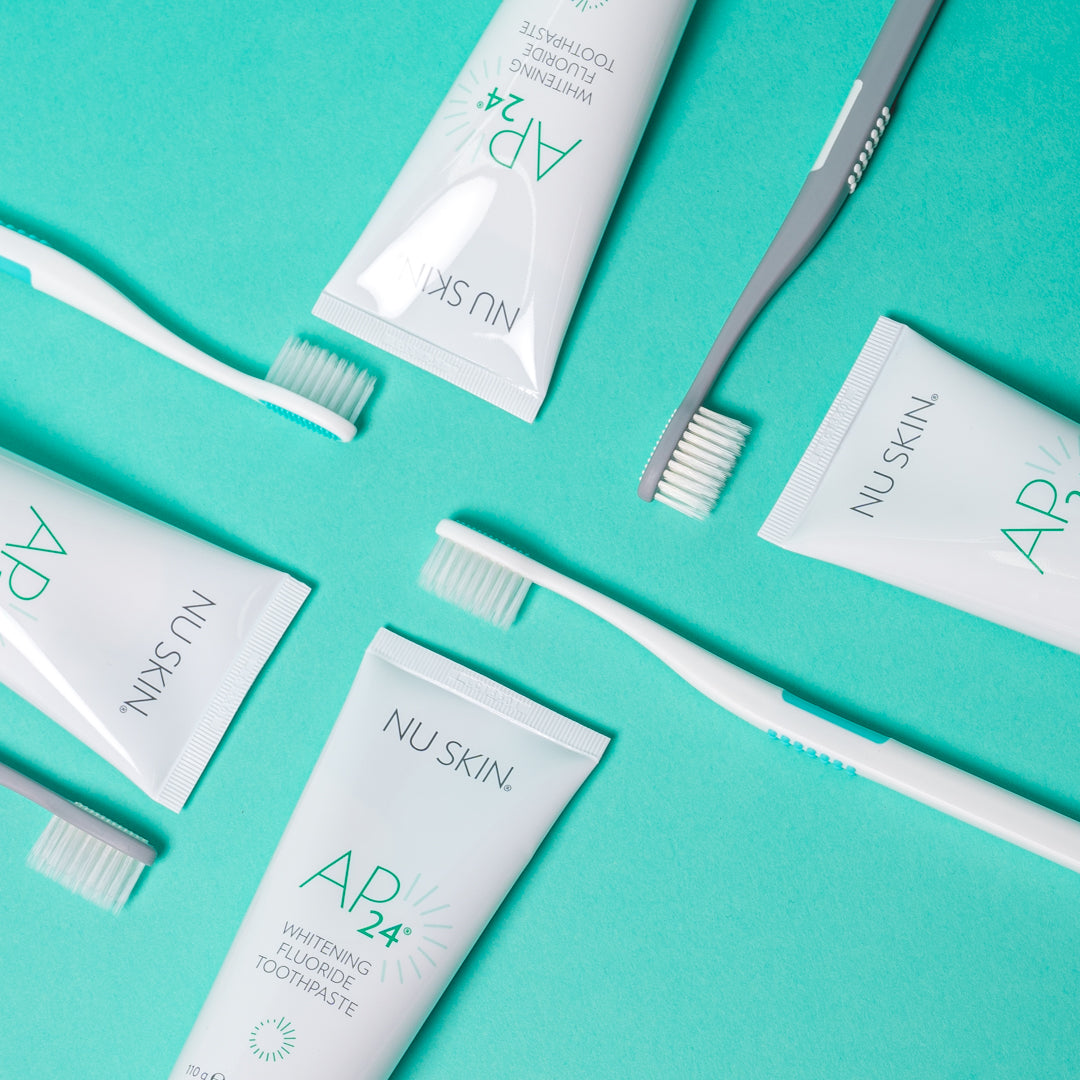 Why You'll Love It
A whitening toothpaste that's gentle and effective
Brightens and whitens teeth.
Helps remove stains.
Helps remove and prevent plaque buildup.
Helps the prevention of dental cavities.
Provides a long-lasting smooth, clean, and fresh feel.
Features AP-24, an exclusive ingredient.
Refreshing, trademark vanilla mint flavor.
Thick, creamy, rich formula.
No harmful peroxides.
Frequently Asked Questions
No peroxides—they have the potential to cause tooth and gum sensitivity. 
No harsh abrasives—they remove stains but erode and scratch teeth.
No. AP 24 Whitening Fluoride Toothpaste is not an oxidizing, bleaching agent. However, if your teeth are stained, darkened, or soiled from various foods, tobacco, or drinks, AP 24 Whitening Fluoride Toothpaste will quickly remove surface stains and return your teeth to their light, natural color.
The RDA of AP 24 Whitening Fluoride Toothpaste is well within safe levels and perfect for everyday use.
With our latest update, we have proudly eliminated the carton historically included with AP 24 Whitening Toothpaste. In doing so, we will prevent approximately 22 tons of paper from entering landfills each year.* By purchasing AP 24 Whitening Toothpaste, you're joining us in taking an active, engaged stride to ensure the future is bright for both the planet and each of us. Please visit www.nuskin.com/sustainability for more information. *Based on 2019 sales for EMEA, KO, and JP.
Any question?
If we still haven't answered your question, you can contact us below and we will get back to you as soon as possible.
Business Opportunities over 50+ Countries
Join the Affiliate or Rewards Program and earn generous commissions/coupons