What's Included in this 30-Day Rental Trial: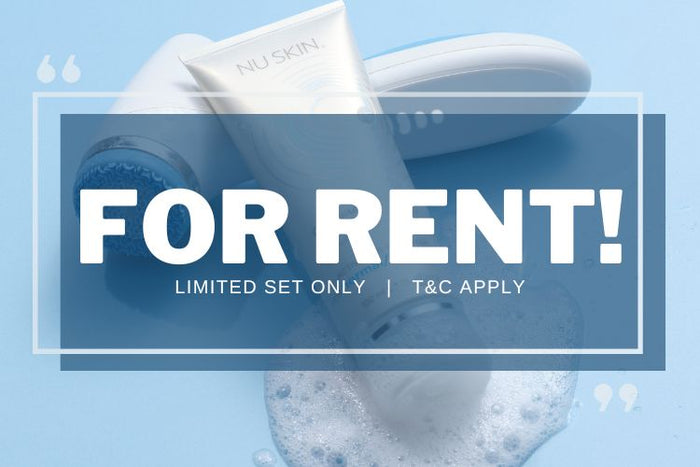 ageLOC LumiSpa iO Rental Set:
1 ageLOC LumiSpa iO device
1 ageLOC LumiSpa iO Silicone Head
1 ageLOC LumiSpa Activating Cleanser
ageLOC LumiSpa iO Magnetic Charger
30-Day Free Consultation (Whatsapp)
Additional Reward:
Join LUMI Rewards:
Start earning beautiful rewards. Receive 300 points for Sign up and 5 points for every $1 spent on your product purchase today.
Thoughtfully designed for all skin types
Do you have sensitive, oily, or blemish prone skin? Fret not, ageLOC LumiSpa Activating Cleansers are here.

ageLOC LumiSpa iO is used together with 5 specially formulated ageLOC LumiSpa Activating Cleansers, designed for different skin types. When used together, the cleansers optimize the effectiveness of treatment head action, maximizing the skin-perfecting and cleansing benefits of the device.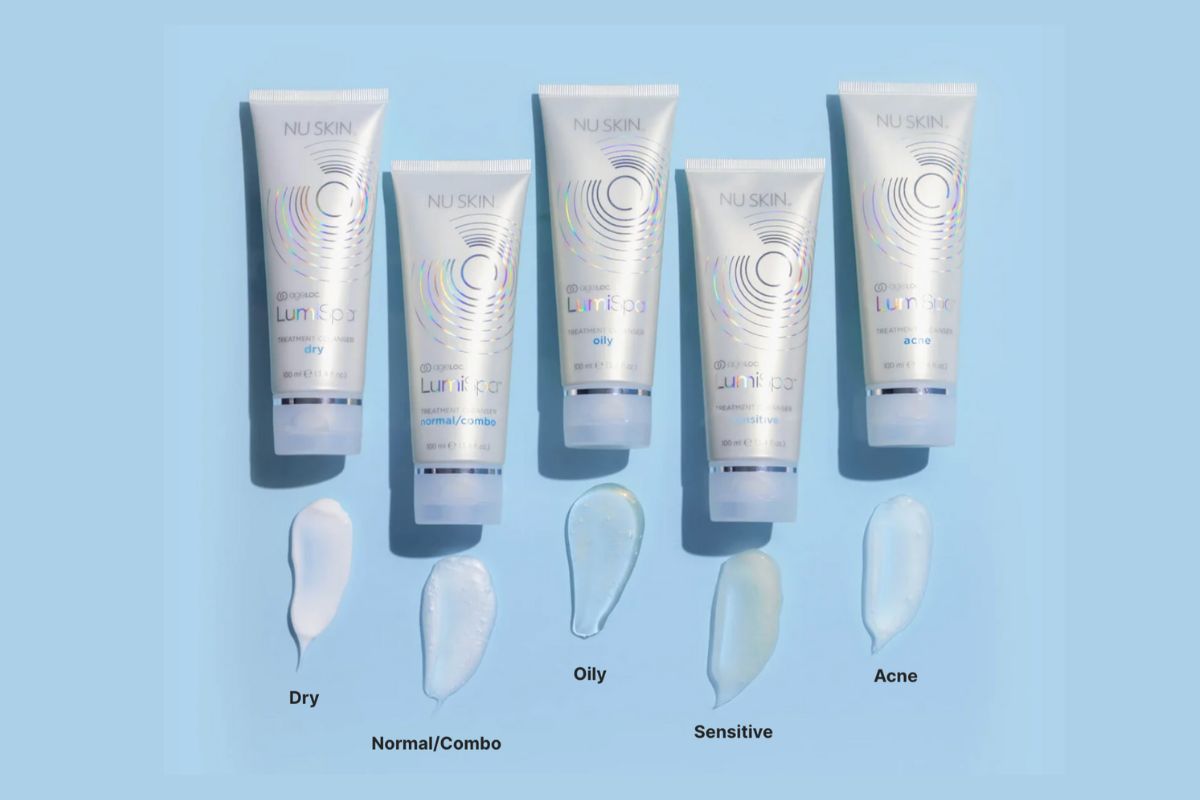 LumiSpa Treatment Cleanser
> 5 formulas designed for different skin types: Dry, Normal/Combo, Oily, Sensitive and Acne (Blemish) skin
> Maximize skin perfecting and cleansing benefits for a healthy, bright and youthful looking skin
> Infused with ageLOC® blend to target visible signs of aging for youthful look
> Low foam formula gently cleanse skin while retain skin's natural moisture balance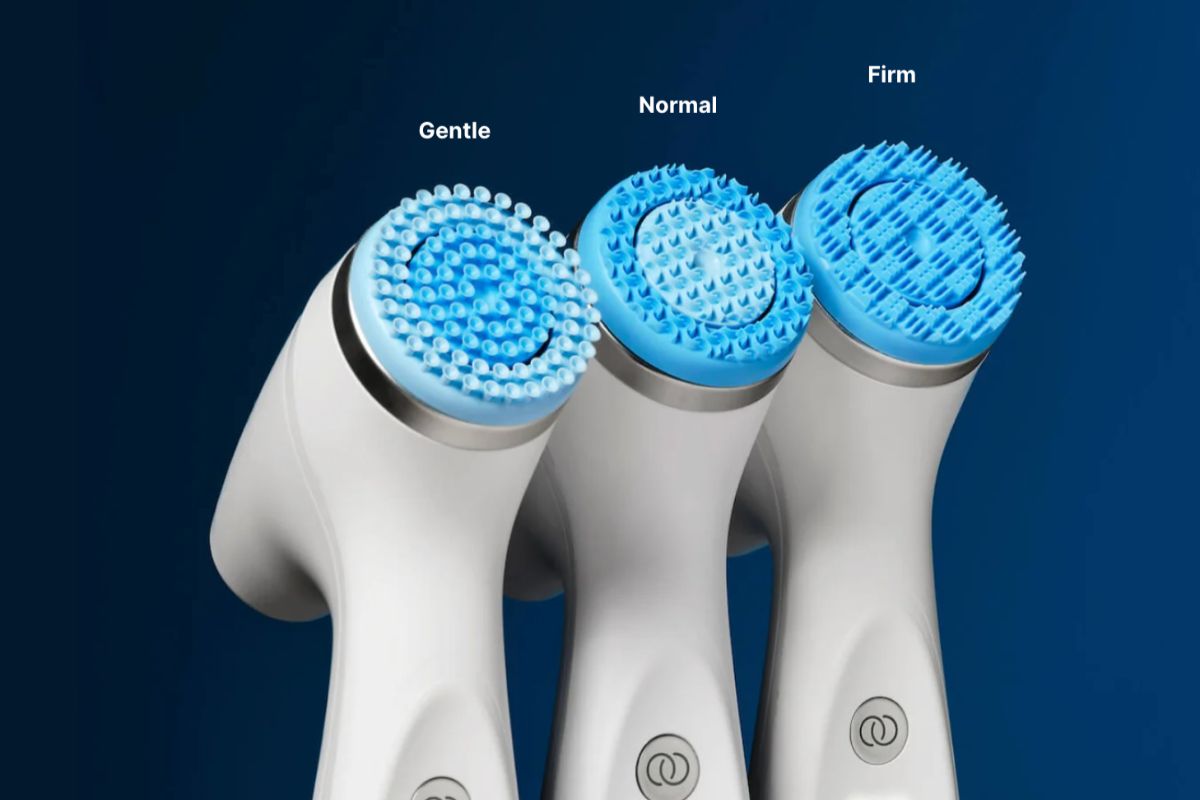 LumiSpa iO Treatment Heads
> Three types of treatment heads to choose from: Normal, Firm and Gentle
> Sophisticated designed treatment heads gently massage and de-stress the skin
> Soft, silicone heads embedded with anti-microbial silver which is more hygienic
> RFID sensor allows automatic treatment head identification and replacement reminder
> Easy to install, replace and clean without leaving any dirt
ageLOC LumiSpa iO Usage Tips
FAQs
Input super-powered skin care. Output in the skin of your dreams. LumiSpa iO is a beauty device that both treats and cleanses. It is superior to cleansing-only devices on the market because it combines skin-perfecting care to visibly transform your skin with advanced cleansing performance. Each treatment head is made of gentle silicone and is much less abrasive and more hygienic than bristle/brush devices. ageLOC LumiSpa activating cleansers contain a powerful ageLOC ingredient blend to target the sources of aging and preserve the look of youth and are formulated to promote a healthy, youthful-looking appearance. Plus, paired with smart IoT technology, this treatment and cleansing system helps you reach your skin goals— for the most beautiful skin of your life.
1. ageLOC LumiSpa iO connects to the Nu Skin Vera™ app to optimize your skin care journey with personalizable treatments, intelligent coaching, awards, and a selfie timeline.
2. Unlike other cleansing devices currently in the market, which feature abrasive brush or bristle heads, ageLOC LumiSpa iO features a gentle, more hygienic silicone treatment head that won' t damage the skin.
3. ageLOC LumiSpa iO features Micropulse Oscillation technology to stimulate the skin, treat and cleanse it, and deliver superior skin renewal benefits more effectively.
4. ageLOC LumiSpa iO is a dual-action,ageLOC LumiSpa iO is a dual-action, time-saving device that delivers a superior skin-perfecting treatment and deep cleansing benefits simultaneously.
IoT literally means " internet of things," or physical objects designed to connect. For you, it means ageLOC LumiSpa iO now includes Bluetooth that allows the device to connect with the Nu Skin Vera™ app on your phone. This new technology unlocks a new world of possibilities and experiences. And it's what helps make your ageLOC LumiSpa iO so smart. Device sensors can detect when it's time to replace the treatment head or when you' re applying too much pressure during your routine. You can also save personalized treatments to your device and Nu Skin Vera app. Think of it as optimization for skin beautification.
Nu Skin conducted multiple studies during ageLOC LumiSpa development, including a 12-week preliminary survey and a 12-week efficacy study on the five primary treatment cleansing options. An efficacy study was also conducted on ageLOC LumiSpa Accent. And most recently, ageLOC LumiSpa was studied in conjunction with Inner Focus™ Collagen Plus. In each study, the ageLOC LumiSpa iO system offered visible improvement to the user's skin.
Yes, there are multiple patents issued for ageLOC LumiSpa iO and the proprietary Micropulse Oscillation technology.
ageLOC LumiSpa iO is suitable for any skin-conscious adult seeking ways to minimize the visible signs of troubled, aging skin or maintain and promote healthy, youthful-looking skin.
With its soft silicone treatment head, ageLOC LumiSpa iO's proprietary Micropulse Oscillation technology enables the device to move at the precise frequency to promote skin renewal, revealing smoother, softer skin after just one use. At the same time, it gently yet thoroughly cleanses away dirt, oil, makeup, and toxins through its patented counter-rotating, porepurifying action, leaving skin smoother and purer while reducing the appearance of pores.
ageLOC LumiSpa iO is a twice-daily skin care system and should be used in your morning and evening skin care regimens.
Yes. You' ll still enjoy all the great skin beautifying benefits if you don' t connect. However, ageLOC LumiSpa iO is created to connect so you' ll want to benefit from all the features created exclusively for you, including smart tracking, custom routines, usage prompts, and selfie timelines.
To get started, download and open the Nu Skin Vera™ app on your phone. After signing in with your Nu Skin account, go to the Products tab, tap the + button on the My Products page, and select Pair New Device. The app will then guide you through the pairing process.
ageLOC LumiSpa iO can be paired with one mobile device and Nu Skin account at a time, so you may occasionally need to reset your device. soft reset:
A soft reset allows LumiSpa to pair to a new device while maintaining your device settings. To perform a soft reset, connect your LumiSpa to its charger, press and hold the power button for 5 seconds. Release the power button when all the front lights flash blue twice. Please note, LumiSpa must be paired with the same Nu Skin account after a soft reset.
Hard reset: To remove your device settings and to allow your LumiSpa to pair with a different Nu Skin account, perform a hard reset by connecting LumiSpa to its charger and holding the power button for 10 seconds. Release the power button when all the front lights flash orange four times.
Select your ageLOC LumiSpa iO treatment head based on your skin type and treatment needs. Each treatment head removes impurities and purifies skin, delivering a gentle experience ideal for a variety of skin types. The Gentle treatment head is our gentlest choice and is great for those with sensitive or acne-prone skin. The Normal treatment head is the standard choice and is designed for most skin types. And the Firm treatment head is for those who want the most aggressive experience but is not recommended for those with sensitive or acne-prone skin. You can use different treatment heads for different experiences each day. ageLOC LumiSpa iO Accent is designed specifically for the skin around the eye area.
A treatment head is designed to last for about three months when used twice a day. With smart sensors, the LumiSpa device will track each treatment head's actual usage and prompt you when it's time to replace it.
It's best to move the device across your skin in slow, broad strokes. But both the device and the app can prompt you in using the proper motion and right amount of pressure. If you use a scrubbing motion, the treatment head will pause and vibrate three times before resuming. If you press too hard, the treatment will pause, followed by one long vibration before resuming. During your routine, you will receive a prompt to move from one area of the face to the next.
ageLOC LumiSpa iO can be used on the face, neck, and décolleté skin and delivers anti-aging and deep cleansing benefits in these areas. We do not recommend using it elsewhere on the body. To treat the gentle skin around your eyes, try ageLOC LumiSpa Accent and ageLOC LumiSpa IdealEyes.®
As hormone changes associated with pregnancy can affect the skin, we recommend that those concerned consult with their health care professional for further guidance.
To prolong the life of your ageLOC LumiSpa iO, do not use the device while showering, do not drop it, wash it with highpressure jets, or submerge it in water for extended periods of time.
You may have noticed that ageLOC LumiSpa iO doesn' t include a stand. Thanks to the updated design and new charger, the stand is no longer necessary for charging. That means you' re free to stand it up or lay it down when charging. An optional stand is sold separately.
The ageLOC LumiSpa iO magnetic charger attaches magnetically to the front of the LumiSpa iO device for convenient, inductive charging.
ageLOC LumiSpa typically lasts at least a week between charges with regular use.
The warranty of ageLOC LumiSpa iO device is 2 years.
ACTIVATING CLEANSERS
The activating cleansers were specifically developed to use with ageLOC LumiSpa. They' re designed to work synergistically with the counter-rotating motion of the heads to optimize the distribution of anti-aging ingredients onto the skin while cleansing and exfoliating to promote healthy, youthful-looking skin.
One activating cleanser should last 30 days.
You can select your ageLOC LumiSpa Activating Cleanser formula based on your skin type and skin needs. There are 5 types of Activating Cleanser available:
• ageLOC LumiSpa Activating Cleanser—Normal/Combo
• ageLOC LumiSpa Activating Cleanser—Dry
• ageLOC LumiSpa Activating Cleanser—Oily
• ageLOC LumiSpa Activating Cleanser—Sensitive
• ageLOC LumiSpa Activating Cleanser—Blemish Prone
ageLOC LumiSpa activating cleansers are specifically formulated to use with the ageLOC LumiSpa iO device. They enable precise cushioning, cleansing, and interaction with the skin, optimizing the effectiveness of LumiSpa's patent-pending treatment head action. They are the only formulations tested and approved for use with ageLOC LumiSpa iO to deliver the full system benefits and promote healthy, youthful-looking skin.
The system was developed to promote healthy, youthful-looking skin and deliver skin renewal and purification benefits. While ageLOC LumiSpa iO was not designed to treat acne, when combined with ageLOC LumiSpa Activating Cleanser— Blemish Prone, which contains 0.5% salicylic acid, it was seen to decrease moderate acne by up to 71% in 12 weeks. Those treating severe acne should continue with their regular skin care regimen and consult a dermatologist before using ageLOC LumiSpa iO.
The activating cleansers have been specifically formulated to optimize the Micropulse Oscillation technology performance of the device to bring superior skin renewal benefits to the skin. To ensure the best results, you should use the activating cleansers with ageLOC LumiSpa iO.
ageLOC LumiSpa iO replaces your current twice-daily cleansing routine.
Any question?
If we still haven't answered your question, you can contact us below and we will get back to you as soon as possible.